Art heals.
It doesn't care if you're creative, or whether you can draw a stick figure. It heals — it just does. There's something miraculous about the way God can use art and creativity to get through to us.
Painted Prayers started as a personal healing journey, a journey back to God. Founder Brianna Heida realized what a powerful tool she'd just been given, and knew it had to be shared. She began leading Painted Prayer workshops to teach the process of spiritual exploration through an abstract art method, and the response was bigger than she could have imagined. Participants were transformed; they were finding new ways to cope with grief and trauma, with religious wounds, with emotional issues and spiritual challenges. Breakthroughs were the norm, not the exception.
Brianna, who is also a minister, expanded her coaching abilities through training in order to better facilitate these breakthroughs, both in workshop settings and in one-on-one private coaching. She then launched this ministry as a way to reach more groups, churches, and individuals who can benefit from these services; people who have found themselves in situations that leave them struggling with their faith or with emotional fallout, due to illness, tragedy, trauma or other life circumstances.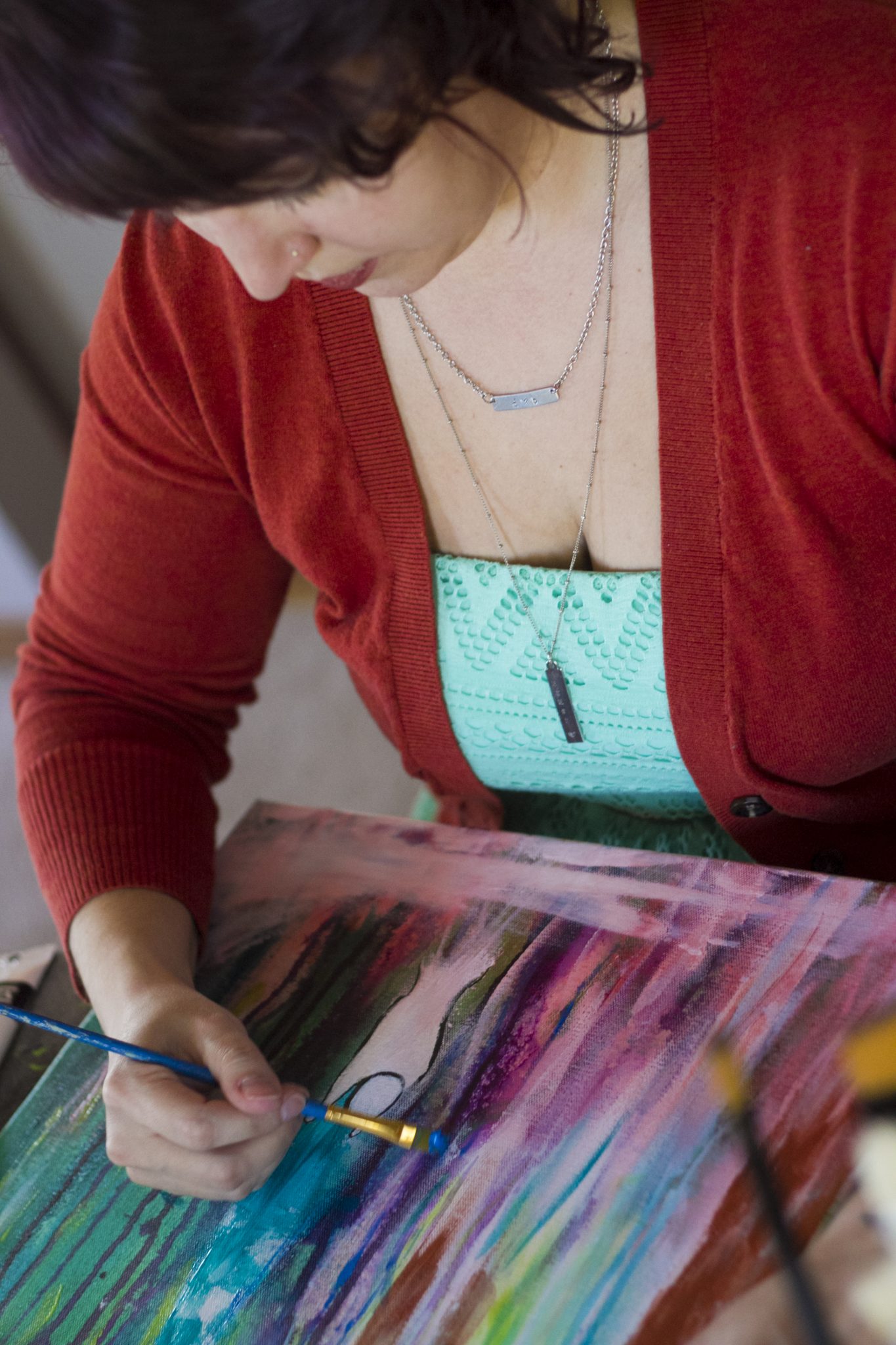 Our Mission
To explore the arts as a valuable tool for emotional and spiritual growth.
Our Core Values
Faith / Compassion / Creativity / Curiosity / Courage / Generosity
FAITH. We believe that there is a higher power with a greater plan for us than we could imagine.
COMPASSION. We believe that our greatest commission is to love one another, and to be the example of Christ's love here on Earth.
CREATIVITY. We believe that creativity is central to all of life, that we are all creative beings, designed for creative endeavors.
CURIOSITY. We believe that approaching life with a curious mind opens doors and possibilities, alleviates conflict, and helps us heal from emotional strongholds.
COURAGE. We believe that we are built to be brave, to face challenges with fortitude, and to tackle the hard stuff with grace.
GENEROSITY. We believe that we are meant to support each other, to lift one another up, and to share what we've been blessed with in this life.
We firmly believe that anyone and everyone matters. All are welcome to participate in our programs and benefit from our services, regardless of who you are, who you love, what you look like, and what you believe.
We do not provide therapy or counseling services at Painted Prayers, Inc. We are trained to identify the need for such services in those with whom we work, and will refer out to qualified mental health professionals as needed.
Painted Prayers, Inc, is a tax-exempt 501(c)(3) nonprofit organization. Your contributions are tax deductible as allowed by law.